A Garden(er) Grows in Maywood
People fly into Newark.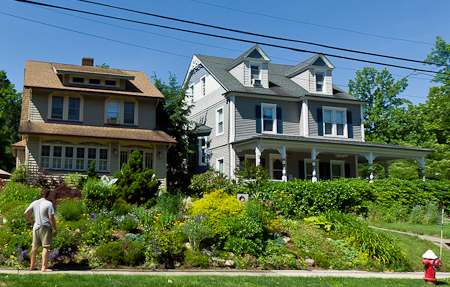 ©Native Bergen
Dail Reid and Tony Vanderhave transform their modest Bergen County Colonial into ample fodder for the garden magazines. Fred and I ltake it all in.
After viewing a good portion of the nearby largest English speaking city in the world and an airport placed in the middle of highways, shipping ports, and factories (as opposed to back yards) people decide that this state, the garden state, is a big inside joke —like a big guy called, 'Tiny' or Fat dude named 'Slim'. Don't give in to that. This state is full of green treasures. They are right there; just past that strip mall; just beyond that flyover. This is the story of one such green treasure, and the amazing couple that created it.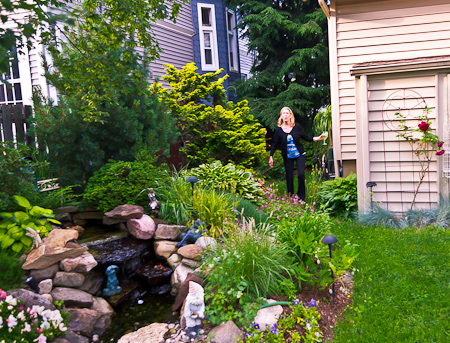 ©Native Bergen
Right next to state highway #17 and not past what many locals still call the Bergen Mall lies beautiful and secret Maywood, New Jersey. There is a street in this town (lets call it South Hickory Lane to protect the innocent) where my good friend Fred lives. We work for the same company. Fred is quite the green thumb; growing figs, pears carrots and such. He's taken what could have been an average Bergen County cape cod house and turned it into this gem of an abode that is warm artistic and eclectic but still very New Jersey with its above ground pool and cute-as-hell mix breed dog. But this story only begins with Fred. He brought me to Maywood to herald the garden of his neighbors Dail Reid and Tony Vanderhave.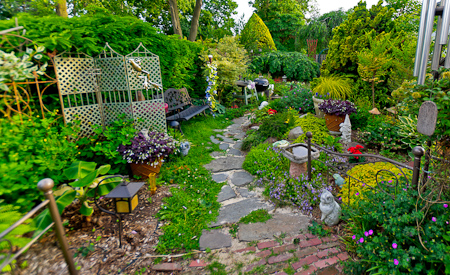 ©Native Bergen
Yes, that is New Jersey and yes that's only about 800 square feet.
Dail & Tony's house:
Pick your favorite garden rag,
Garden Design
,
Home & Garden
; whichever. Flip at random to any garden showcase article and that could be the grounds around Dail and Tony's place. Their gardens handily outshine the colonial house that separates them. It was difficult to know what to focus in on as there were so many plants and items to look at. At the same time Dail and Tony were both fascinating in their own right. What do you photograph? How do you make it good? Where to begin?
"Itís all about textureÖ", Tony said.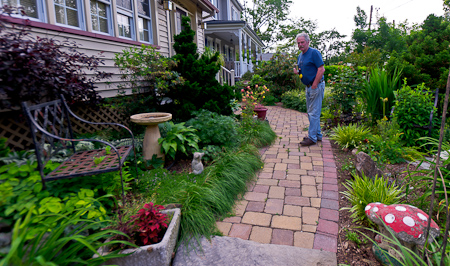 ©Native Bergen
Tony Vanderhave explains that a lot of their design is about texture and how depending on the time of day the garden's palette completely changes.
Fine, we'll start with texture.
There are dozens of different plant species in Dail & Tonyís yards:† I saw California Poppies, myriad varieties of hostas and clematis, native false fox glove, exotic fox glove, goatís beard, a deciduous flame azalea, neighbor Fredís donated fig plant and to-the-basement migrating banana trees.†These were the plants I could remember There were so many others.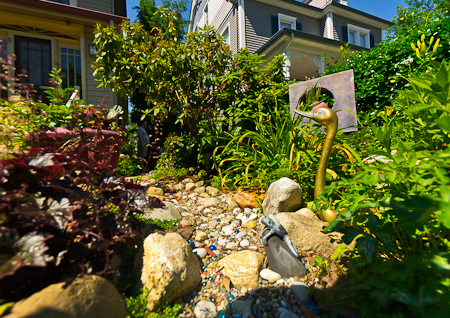 ©Native Bergen
A close up of the miniature dry riverbed that snakes throughout the entire propery. Nice touch.
It was not all flowers either.† Several species were in bloom but it was the multiple varieties of leaves and stems that made up the tableaux.† When the sun dropped below† the horizon Tony pointed out various foliage with blue tints,†the greens were receding and the blues and purples were coming alive. Plants with yellow oranges and reds were also glowing with an almost artificial clarity.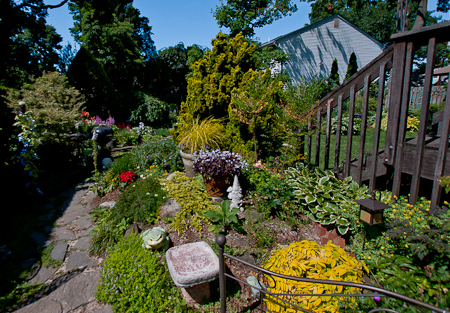 ©Native Bergen
A stellar garden, I learned is not just plants, but also bird feeders, bird houses,† homemade copper pipe trellises, ceramic mushrooms, chimes mirrors, a recycled fish tank stand and even leather moccasins full of moss, and plants. Dail even managed to snake a dry stream bed lined with brick from the front yard all the way around the entire space.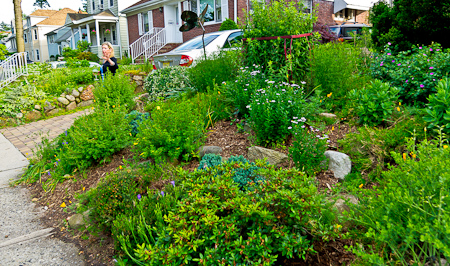 ©Native Bergen
Gardener Dail Reid detailing one of the countless highlights of her gardens while I feverishly tried to capture her and her plants —very poorly I might add.
Dail started out in packaging and Tony was in landscaping when they met. As their relationship progressed Tony dropped the landscaping and Dail got into gardening. "Dail likes to point" Tony mentioned. We all laughed at this. You don't want to be on the "do" side of that pointing finger I guess: "Fix this,† dig here,†† uproot these,† move thoseÖ" but the results justify the fastidiousness I'd say.
I'm fascinated by the motivation that Dail and Tony have to create their garden space. There are other homeowners with intense ornamental gardens; full of plant species —this alone does not make for an original idea. The maverick stroke in my opinion is the vision and willpower to make it happen. With everybody doing the same thing from yard to yard across the county state, and nation its no longer a conscious choice whether or not to just conformÖ its axiomatic. In some of your gated communities conformity is mandatory. I'm fascinated by that inner voice that some people have &mdash forcing them to go against the grain even when its right out in the open for people to scrutinize, praise or denounce.
My friend Charlie, just a couple of towns over, also has divergent gardens in his front and backyard. When I visited Dail and Tony I couldn't help but think of Charlie's lot. Charlie's green concerns don't include decorative beauty as a top priorities. His neighbor's rail about the way his yards look and by proxy tend to not give a rat's ass about his higher calling.
Dail and Tony's neighbors… well they have no excuses. Dail and Tony's yard looks exquisite; like something you'd find in Carmel, California. If I lived next to Dail and Tony how could I just mow the lawn every Saturday; plant a few marigolds and do the Sears Garden Center Shuffle?
How can you see their house and not at least, throw in a few rocks and some wood chips for your own yard? —you can't. Dail and Tony's garden determination is spreading. Not so random parcels of grass in the accompanying neighbors' yards are noticeably being replaced with unusual suspects both exoticÖ and native. Some of the neighbors freely admit to D&T's green influences and some deny it. but I'm thinking, however, that even the late great Ray Charles can see what's going on.
This is the kind of green living that needs to be heralded and exemplified. Dale and Tony's version of green has transformed what would be just another house near the turnpike into fascinating plant art oasis. Green advocates are sometimes so dogmatic in the righteousness of their cause that they completely forget that its humans we're dealing with. Dale and Tony's garden's have an allure that overshadows some of the very green concepts that they amply employ: biodiversity, green house gas reduction, sustainability, recycling and more than a handful of native plants too.March 26, 2013|Posted in PEOPLE, PLACES, THINGS|Tags: Dail Reid, Garden, Maywood, Tony Vanderhave| 1 Comment|