Native Plants: Humans Attack!
What started out as an urge to
plant native plants
and create my own website content quickly turned into an exploration of animal (deer, rodents, insects and humans) behavior and guerrila gardening. I call it my stolen garden.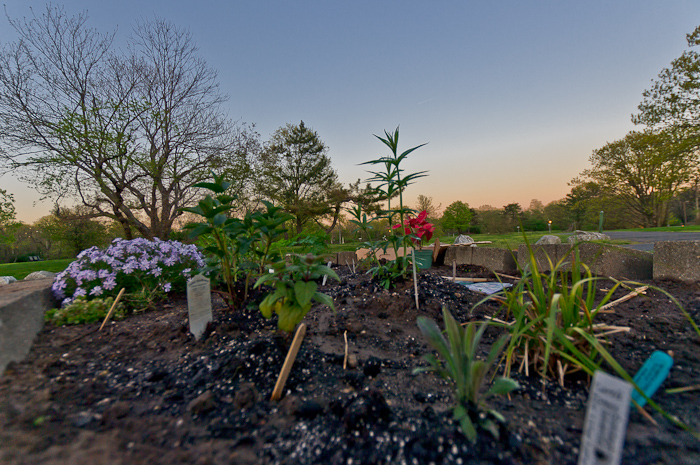 ©NativeBergen
All's quiet on the native garden front.
My first impulse was to clean out the grassy weeds early in the season. I pitched these into the knotweed thicket growing on the other side of the cul-de-sac. I planted native plant seed packets and some big bluestem that I had laying around from last season. We covered the bluestem seed with phragmite reeds that had their seed heads carefully removed. Using the phragmites was an attempt to avoid buying straw to cover the grass seed. We covered the grass seed to keep the birds from eating it.
Looking back, it was smart to pull the weeds that early in the season. It was easy to dig up the fledgling patches of creeping grasses. Planting seeds outside in such a wide open spot was a really dumb idea. When my neighbors saw an empty patch of clean dirt they waited a couple of days and then immediately started planting their old Christmas poinsettas right on top of my seeds. One neighbor even carefully removed the phragmite stems and placed them on the side of the flowerbed. I learned fast that everybody had been eyeing that derelict flowerbed. Also, there was no way my neighbors would wait for those seeds to germinate. That is, if the cold Indian Winter of a spring time we get each April didn't kill them first.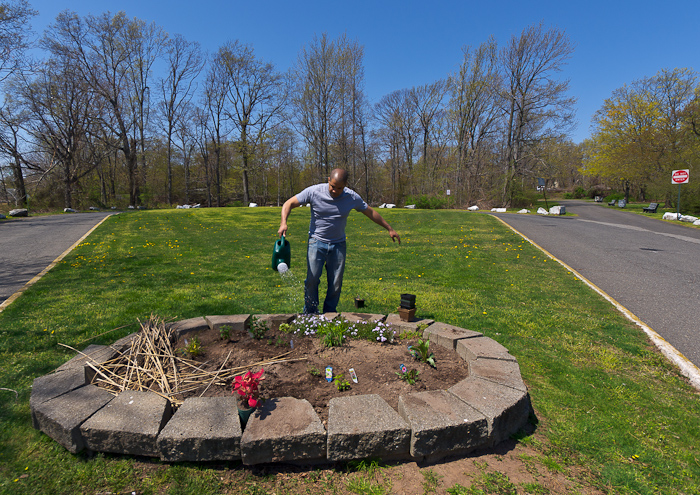 ©NativeBergen
Neighbors have no time for native plant plugs to grow. While the seeds grow indoors, the plot is augmented with mature plugs from the garden store and a native plant sale.
In an instant, this garden was no longer about growing native plants. Just like that, it was also about keeping my neighbors at bay and making good on some kind of unspoken promise I had inadvertently made by clearing the space. I made some trips to the garden store and plugged the dirt patch with store-bought versions of the same seeds I planted. A trip to a native plant sale in Westcheser, ($80 dollars poorer) and I had most of the space filled in enough (I had hoped) to discourage people from meddling in a space that I wasn't technically authorized to meddle in. I moved the poinsettias but did not remove them. I didn't want to bring bad juju to this stolen garden. The big Bluestem seed was a bust. It never germinated, probably because it was too old. So the bare-ass dirt covered with phragmite stems had all the neighbors questioning and admonishing.
The native plants I was cultivating so far:
• woodland Phlox (Phlox divaricata) • woodland stonecrop (Sedum ternatum) • purple coneflower (Echinacea purpurea) • speckled phlox (Phlox maculata) • wool grass (Scirpus cyperinus) • white goldenrod (Solidago bicolor) • wild lupine (Lupinus perennis) • scarlet beebalm (Monarda didyma) • false sunflower (Heliopsis helianthoides)
I didn't give up on plantings from seeds. Since the idea started with seed packets and since they were cheaper than perennial plugs (which had barely started coming into the plant store in late April) I purchased more echinacea, beebalm and butterflyweed as seeds and started making my own plugs in the house. The plants outdoor were chugging along in the tepid weather. One of my neighbors planted chocolate mint and basil in one corner of the plot. How dare she!? Did she not realize that this unauthorized garden on public property was exclusive?
I almost yanked the herbs but ultimately refrained. I spent big coin buying my native plants and the last thing I needed was a neighbor sabotaging my hippy plants. Right around mothers day my homegrown butterfly-weed plugs were getting robust so I planted them out in the stolen garden. The native plant sale had been a couple weeks ago and so far, so good. I watered the plants, a flower pot in the morning before day-job and once upon again upon coming home. The spot was sunny and we were enjoying short sleeve/long pants weather. Leaving the poinsettia on the border stones (along with the neighbor-lady's herbs in the fringes) was pretty magnanimous. That would be good insight to detail in a future post about guerrilla gardening, I reckoned. At that point my native plant schemes were unfolding just like I had planned, right? Insert evil laugh here.→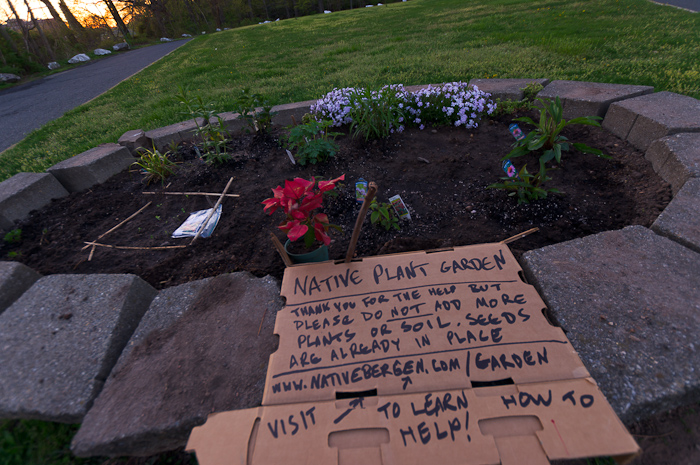 ©NativeBergen
Makeshift: A hastily written and very ghetto-looking sign telling my neighbors to back off in a backhanded way. How dare they trespass on my unauthorized garden? —and yet, the poinsettia remains. Sigh.
Then one sunny afternoon afterwork I discovered that somebody had mushed that stupid dying poinsettia plant right into the butterflyweed seedlings. Oh man, I was seeing red. Nosy parkers, meddling kids! You well-meaning schnooks! Get you're own damn stolen garden, I wanted to scream. This was supposed to be fun. It was supposed to be easy. I had to make a sign. Yeah, it wasn't my space, but then again I cleared all the weeds and had the good idea. If not for me, that plot would still be nothing but weeds. Deep breaths, zen, juijitsu, the joy of painting and Bob Ross… There was no way I could write a sign full of invective and expect to come home from day-job and find any of my plants alive. I hastily crafted a passive-aggressive but polite message on a cardboard palette and placed it right where everybody could see it. I also cordoned off the baby butterfly-weed with remnant phragmite stems and a ziplocked seed envelope describing what they hopefully would become.
I guess this press-ganged native plant garden plot might be a little more difficult than I thought. Looking back on it, I have learned that people can be one of the easier garden problems to deal with. If those people are respectful and gracious the way my neighbors are. I guess I'm an idiot for wishing the same traits could be found among deer and insects. Stay tuned.August 28, 2013|Posted in PROJECTS, THINGS|Tags: gardening, humans, native plant garden, native plants| Leave a comment|