Native Plants for Sale!
The Native Plant Center/Sale at Westchester Community College (NPC@WCC):
Oh well, you missed it. If you need native plants for your garden then haul your ass down to a native plant nursery in South Jersey or Eastern PA. Otherwise, you'll be doing the garden center two-step: juggling whatever franken-plants they're selling in one hand while you try to determine their native range with your smartphone in the other.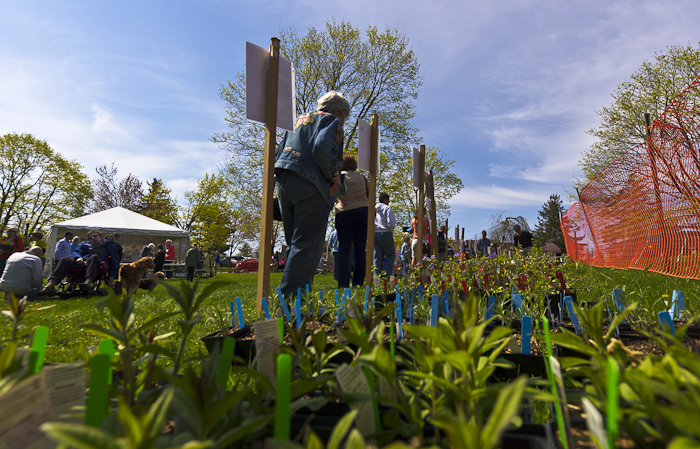 © Native Bergen
The 14th Annual Native Plant Sale at the Native Plant Center at Westchester Community College. (That's a mouthful!).
Next year, mark your calendar and bookmark the site so you don't miss out. A thrown-together charity car wash type event this was NOT. This annual native plant sale was well organized; and amply staffed with volunteers, members, and quite a few big-gun garden types of the botanical/garden conservancy variety. Many WNPC members and quite a few non-members got up early to be the first in line to purchase the rare plants being offered. The event was not just a sale but a homecoming convention of sorts, allowing ambitious gardeners a chance to mingle and talk shop after the dead of winter and the typical bait-and-switch early Spring that New York endures.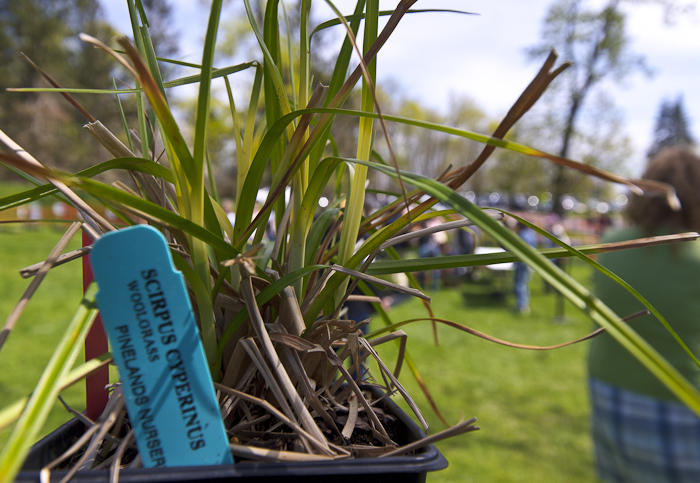 © Native Bergen
Woolgrass (Scirpus cyperinus), Leave the marigolds in front of the supermarket, this is native plant country!
All the plants offered were native: 75 varieties and 3,000 plants. There were very few cultivars and several of the plants offered were from local nurseries. While the NPC@WCC staff predicted that gardeners would feel like kids in a candy store, for native plant zealots, the spirit of the event felt more like two-for-one drinks at happy hour. If you'd like to learn more about native plants and ecological gardening then watch for upcoming native plant sales in your area. However, make no judgments about native plant proponents or their organizations until you've visited the Native Plant Center/Sale at Westchester Community College.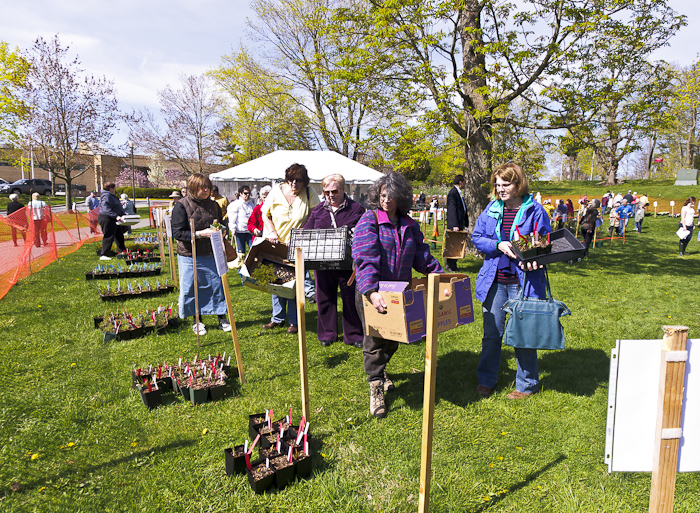 © Native Bergen
Many people got up early to get first dibs on the NPC's unique offerings.
What's the big deal with a native plant sale?
If you've every strolled through a local park and wondered why the landscape looks so blah, its probably because its overrun with invasive imported plants. These weeds were imported here as ornamental plants but quickly outgrew the confines of their designated gardens and now choke out the local environment.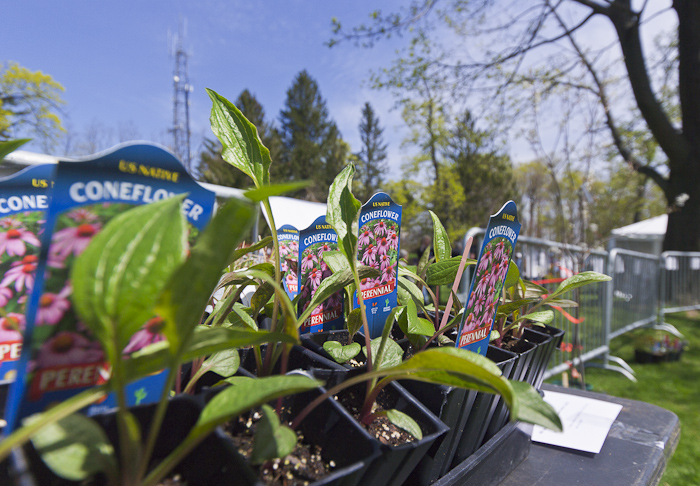 © Native Bergen
Purple Cone Flower (Echinacea purpurea), a native plant heavyweight sitting pretty with those telltale blue and gold US Native plant tags that native plant fiends always watch for.
Buying pretty plants at the garden store can be hazardous to the local ecology. Garden stores love to sell plants that grow fast, local animals hate to eat, and are bulletproof. These kind of plants will look good while they are trendy but can severely alter the local plant/animal food cycle. At the WCC Native Plant Center sale most of that baggage went out the window. Many of the buyers and the loving NPC staff are banking on their native plants escaping into the wild. Since native plants was born here! they don't need the fertilizer, resources and effort that the imports require. In regards to your local ecology, planting native plants will allow you to enjoy many new animal visitors to your gardens since your supplying what they normally eat.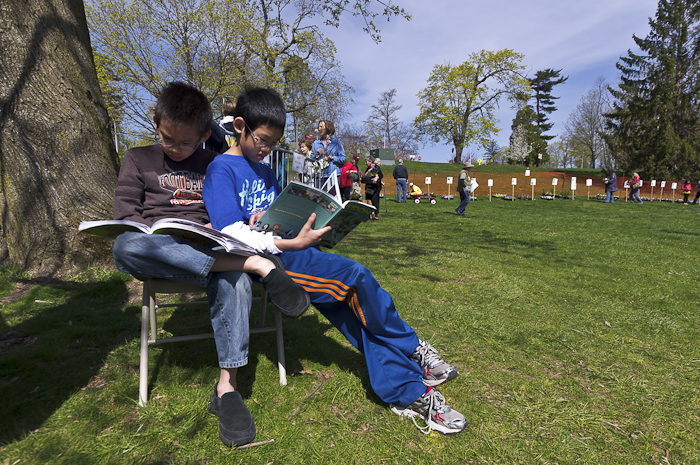 © Native Bergen
These two kids clearly see the importance of going native in the garden. Their fervor could barely be contained by my humble Pentax dSLR.
One aspect that I key in on a lot is the human factor. Everybody wants something special, something rare and unique. We are living in a time now when domestic plants are rare and exotic and imported plants are run of the mill. So by all means get your holier-than-thou on by telling all your neighbors, "This year, all of my garden additions are native plants." Actually, call them indigenous plants that sounds even more elitist!
May 8, 2013|Posted in PLACES, THINGS|Tags: native plant organization, native plants, westchester| Leave a comment|