The Celery Farm
One of my site visitors, Gabriele, mentioned that I should visit a place in North Jersey called the Celery Farm. On the day before Father's Day, I did.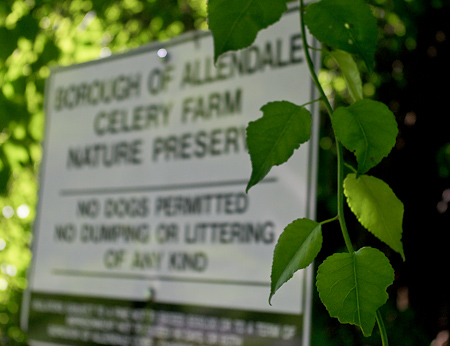 © Native Bergen
A sure 'sign' that I successfully located the Celery Farm. The sign though; not the massive growth of Asian Bittersweet (Celastrus orbiculatus) devouring everything in its path.
As the name suggests, the plot of land was once used to grow celery. Now, its a 107-acre wetland sandwiched in a suburban pocket of tony Allendale, New Jersey. This green space has a unique set of features, most notably, water: two ponds, diminutive Lake Appert and the Allendale Brook. It's a prime location for birds; 53 species that use it as a breeding ground and almost 250 species that have been seen there. On my visit, I saw chipmunks, rabbits, toads, and Canadian Geese. There are a couple of trails in the place; one in particular that makes just under a one mile ring that will allow you to see the lake and a good bit of Allendale Brook.
The GPS-furnished directions led me to a narrow cul-de-sac with affluent homes on one side and thick vegetation on the other. The green side had official looking signs indicating that this was protected land, but no entrance. This street looked way too neighborhood-watchy for me to just park on the side of the road so I decided to search adjacent streets for an entrance. Just around the corner I found an official entrance with a small parking lot and a well appointed kiosk.