Mystery Plant In the Celery Farm
I couldn't let this one go. I got a lot of good photos from the
Celery Farm
. So many that it messed up my article template. There were even more; including the one below. I saw this plant growing low on the ground just about three quarters of the way around Lake Appert.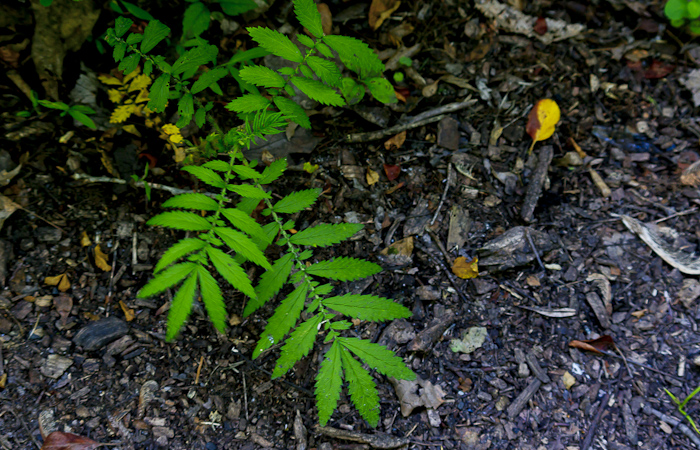 © Native Bergen
One plant that I wasn't able to identify in the Celery Farm of Allendale, New Jersey.
If you look in the center there is one group of leaves that looks like a baby Tree Of Heaven (Ailanthus altissima) but the more mature leaves are clearly not from a tree that grows in Brooklyn.Look at that alternating leaf pattern and those chinquapin oak-like leaf edges. (Quercus muehlenbergii)
Does anybody know what plant this is?
I'm not getting my hopes up. I'm putting my money on something imported. (Then again, wouldn't it be cool if this was something homegrown?) So please, any of you plant-
otaku
please help me identify this specimen. If you do, maybe it will stop haunting me in my dreams. Not really. But I'd still love to know what it is.
Update:

Harvestlice (Agrimonia parviflora )

A very special thanks to Peter Barnes of Wales in the UK for schooling me:
[…]As for your plant, it shouts out "rose family" to me, and I feel pretty sure it is swamp agrimony, Agrimonia parviflora. The attractive leaves rather bely the slightly nondescript small yellow flowers that come in late summer. Swamp agrimony apparently grows mostly, but not always, in damp places, and occurs from Connecticut south to Georgia. (—Peter Barnes).
Please be sure to check out Peter's Botany website.
Had we really bet money, I would have lost. Harvestlice, also know as Agrimony, is completely indigenous to this area. You definitely won't find it at your local Home Depot. As Peter mentioned, the flower for this plant is a non-event. The leaf pattern is the real draw. Its amazing to see something that unusual that was born here.July 10, 2012|Posted in OUTSIDE, THINGS|Tags: Celery Farm, Mystery Plant, native plant, nature preserve| 3 Comments|