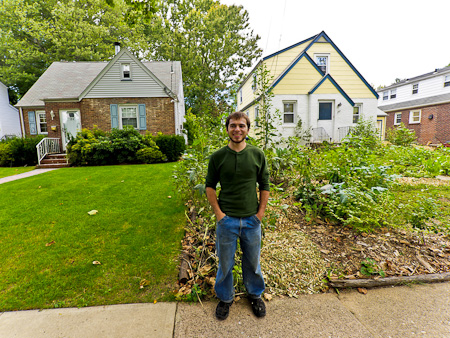 © NativeBergen
Charlie, in front of his house; the yellow one on the right.
Charlie Zelhof and the Hackensack Permaculture Experience
Charlie Zelhof, one of two children, born of Irish and Middle Eastern descent and recently graduated from high school, lives in Hackensack, New Jersey. Although, the county seat of Bergen and home to
White Manna Hamburgers
, a hotbed of unique horticultural theories, it is not. In Charlie's case, that hotbed was North Carolina. On a summer trip, by chance, some individual happened upon Charlie and asked him if he'd like to attend a meeting regarding Permaculture gardening. He responded, "Sure, why not?" That meeting changed his life and among other things, led to our crossed paths.
It was either Christmas or Mother's Day that got me in the Barnes & Noble bookstore at Riverside Square Mall in Hackensack. I was in the gardening section trying to find a new book to give to my mother as part of an ongoing quest to get her hooked on New Jersey native plants. While browsing the books I got to talking to this young guy. I think I may have even asked him if he could recommend any good books about native plants. He didn't; but he did highly recommend a book about permaculture gardening called Gaia's Garden, which some of you may be familiar with. So there we were, I was talking native plants; he was talking permaculture. I imagine both of us were excited to find another person who was actually into some form of alternative horticulture. That's pathetic, considering we both live in the garden state.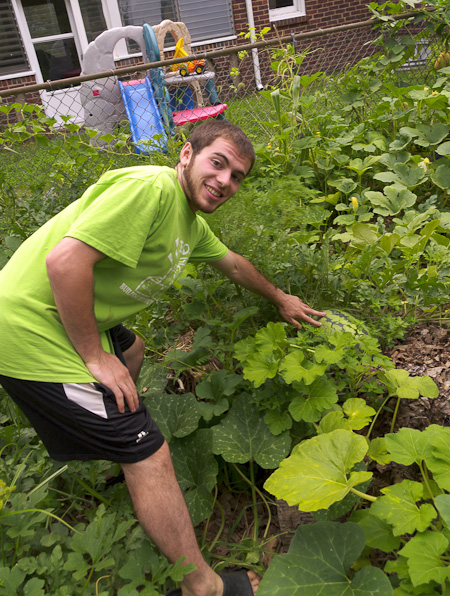 © NativeBergen
A yellow-fleshed watermelon hiding behind squash leaves
Maybe it was Christmas, because I remember this kid saying when it got warm; I should come see his garden. He asked me if I knew what a Pawpaw tree wasóI did. But I'd never seen a real one, so I was genuinely intrigued by his offer. We talked a bit more and then exchanged contact information. I gave him my business card. (In an effort to show him that I wasn't a pervert) and after emails and Facebook we only talked occasionally over the period of a year. When I finally got the incentive to begin this website (a crappy day at work) Charlie was the first person that I wanted to write about. Thankfully, he agreed.
Driving up to Charlie's house was an immediate thrill and validation for what I'm trying to do with this site. Charlie's street could be any street in America with modest houses and boring yards: cut grass, azaleas, butt-ugly forsythia bushes, maybe some Miscanthus Sinensis or a Magnolia tree for the "daring". Smack in the middle of all that landscaping muzak was the Zelhof residence.
There was Charlie stooped over; standing and waving in the midst of this nappy jungle of thriving plants, most prominent of which was two towering Common Mullein stalks. I spied peppers, the aforementioned mullein, English plantain, Arugula, Purple Cone Flower and Bee balm amongst a bevy of other flora. There was no manicured grass to speak of. Each plant was allowed to flourish in its own way. There were dead leaves (compost) laced in and out of each growing piece. This was only the front yard.
Charlie's brave and wise parents have allowed him to transform their entire green space into a permaculture settlement. In the backyard was a sprawling patch of summer squash that had decided to devour the swimming pool instead of the path that was designated for it. Charlie also showed me several areas where the plants made their own way in what my uneducated eye would call a pile of dirt and sticks, a hugelkultur bed. The watermelon and squash planted there were growing spectacularly.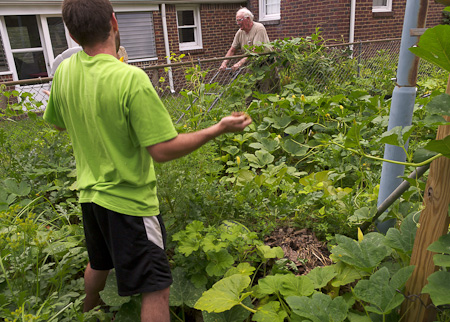 © NativeBergen
—permaculture gardening passion; but 'To Hell!' with with yardwork.
For native plants, Charlie had Scarlet Bee Balm (Monarda Didyama) and he casually mentioned native strawberries. I'd like to roll in the Pawpaw tree and the Echinacea but I'm sure the native plant crowd would give me the stink-eye for that. I'm not thick enough with my native plant knowledge to know if I overlooked something. What the permaculture set lacks in localphelia it makes up for in diversity.
Native plant proponents believe that our very diverse native landscape is being destroyed by human vanity and capitalism. Now we have only a handful of plants being used throughout our entire landscape. This creates a monoculture where only certain plants will grow. Ultimately, our unique flora and fauna signature will eventually be destroyed. The native plant crowd butt's heads with the permaculture crowd because a permaculturists use of exotic species óeven with 'green' intentions may give rise to super weeds/pests.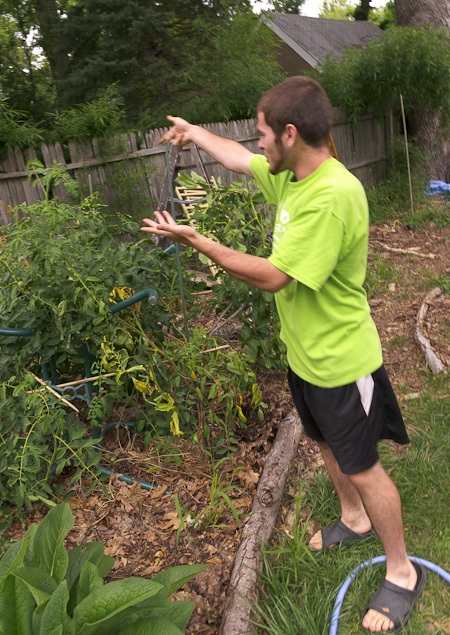 © NativeBergen
Standing in Charlie's yard, it felt moot to press the native plant issue. Charlie's garden grows Elderberry, Ground Cherry, Russian Comfrey, Common Mullein, Summer Pattypan Squash, Watermelon, Persimmon, Figs, Pawpaw, Peaches, Yarrow, Lovage, Fennel, Turkish Rocket, Perennial Arugula, Jimson Weed, Marigolds, Common Plantain, Sweet Peppers, Bee Balm, Echinacea, Native Strawberries, Jerusalem Artichokes, Tomatoes, Siberian Kale, Dandelion, Quince and Bamboo (creeping in from the neighbor's yard). That's hardly a monoculture but the super weed issueÖ well, there is that.
Charlie's permaculture ethos eschews fertilizer, irrigation, conventional weeding and almost everything we thought we knew about good gardening. In permaculture, every component of the agricultural system receives sustenance; not just humans. Ideally, that agricultural system will also be self-sustaining, thus eliminating the need for chemical additives and constant human intervention. Some of Charlie's plant serves as the garden equivalent of linking verbs. The comfrey, for instance, is fodder for insects and when it decays, provides a natural source of nitrogen for the other plants. Even that evil invasive Common Mullein(a Eurasian import) provided ample seed fodder for birds, Charlie mentioned.
The most interesting thing growing in Charlie's garden, ironically, is Charlie, himself: laid back in general but youthful, zealous and optimistic when it comes to green plants. As we walked through his garden he eagerly offered me any harvestable items that we came across. He eats mostly vegetables; save for the organic eggs that he'll harvest from the chickens he plans to raise in the coming year. No college plans as of yet, but he's sure his future profession will involve seeds and soil. He is passionate about his green pursuits but hardly dogmatic. While not creative in an artistic sense, I found his unique green space to be astoundingly original and inspiring considering the surroundings. This would not be a story in Vermont or maybe Sonoma Valley; but in Hackensack —just off Route 4, over the train tracks and right around the corner from about 8 shopping centers? Spotting someone like Charlie is like spotting a Goldfinch in your front walkway.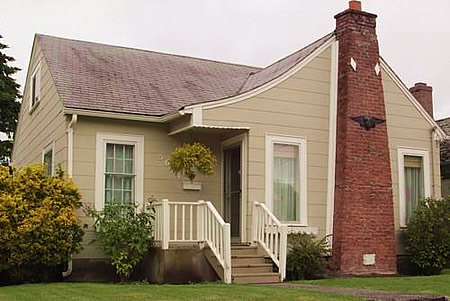 © NativeBergen
The neighbor's house?
Make no mistake, some of Charlie's neighbor's think his yard is a trainwreck of weeds, and dead leaves. Some are vehemently, even violently opposed to Zelhof's alternative green choices. Maybe you might share their sentiment. Then again, look at the neighbor's yard. No wait, that's my neighbor's yard. My apologies, that's actually a house for sale in Tacoma, Washington, almost 3000, miles west and 600 miles north of here. All that distance and yet the landscape looks just like the shiz here. Being a jaded 40-something, I did challenge Charlie to clean up his garden. I figured if it looked exquisite, then his punk-ass neighbors would have to take a good hard look at permaculture instead of what they see as dried leaves and hippy plants. I loved Charlie's response, though:
"Yeah, I could clean the space up but I'd feel like I lost my soul."
And also,
"I planted these marigolds, to kind of, I dunnoÖ make them happy, I guess."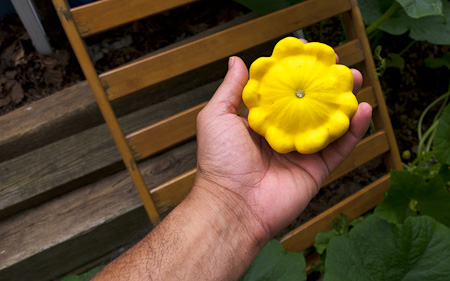 © NativeBergen
I can't argue with that. And to all you playa' hatin' neighbors, Suck on the marigolds! My venom aside, Charlie is endearing. His earnest, genuine and very green pursuits should be encouraged; even sponsored. I'm not the only one who thinks this way, Zelhof's immediate next door neighbor has allowed him to build a hugelkultur bed right on his front lawn. Several lettuces will be planted in that plot. I encouraged Charlie to bring a basket of fresh produce over to that neighbor when that lettuce is ripe. Also, maybe plant some of Home Depot's finest next to their front steps.
NativeBergen is completely cool with Charlie Zelhof and his permaculture ambitions. Native plant purists, by all means, bring our friend some low/high bush blueberry, Dutchman's breeches and one of those toughened up Castanea dentate. Charlie will have them flourishing in a year. And nasty neighbors remember: The world offers him meth, crack, weed, teen pregnancy, no jobs, reality TV and a Manhattan without Twin Towers, and he chooses permaculture?
Mom, Dad, no need to worry; the kid is all right. —NativeBergen.October 10, 2011|Posted in PEOPLE, THINGS|Tags: Charlie Zelhof, Hackensack, permaculture| 6 Comments|