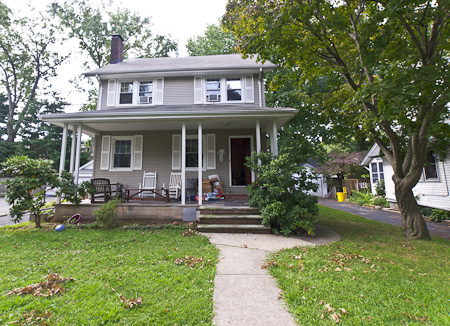 © Native Bergen
Just another suburban New Jersey house?
A Green Roof Grows in Teaneck
On a quiet street in what could be any town between Maine and Virginia, one intrepid couple decided to buck the swing set / hot tub trend and build a green roof. Not green hued roof shingles; but instead,
a roof [Ö] that is partially or completely covered with vegetation and a growing medium, planted over a waterproofing membrane (óWikipedia).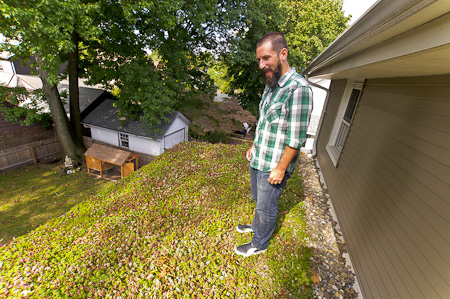 © Native Bergen
Scott Harris and his wife Sarah Jack wanted their home renovations to reflect some environmental sensibility. A green roof in the rear of their house seemed like just the thing. Several roofing contractors were contacted; each of them nodding, "Yes." and saying, "We can do that" over the phone, but never actually following through to vet out the job. Getting in touch with This Old House not only got them a contractor who could do the job properly but also a feature article in their magazine. Nice touch.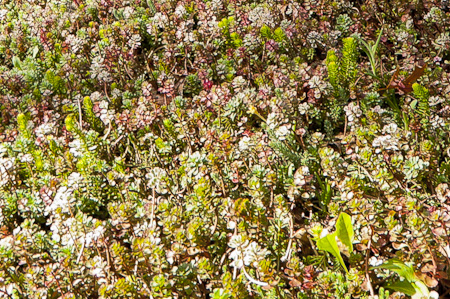 © Native Bergen
Sedum Close Up: Rich in texture and color but also strong enough to support our weight.
The plants in the green roof are a compact mix of sedums. Sedums are preferred for green roofs because they are a spreading succulent that doesn't need much water, grow just fine on what amounts to porous pebbles (growing medium) and grow to a maximum of five inches. I took the chance to crawl out the window to survey the roof. Immediately noteworthy was the multi-hued texture of the sedum mix ódefinitely not a staple in New Jersey residential (or commercial) landscapes. Lush with color and texture, it was also strong enough to support our weight. Scott informed me that every spring the roof will bloom with little purple flowers. Even with the recent hurricane and earthquake that ran through New Jersey, the roof looked great, save for a few pin oak leaves and few ambitious dandelion plants. Wearing canvas Converse low-tops, I could just feel the nappy texture of the plants under my feet. If I was smart, I would have taken my shoes and socks off to feel those plants with my bare toes. That alone, would justify the setup costs, if it was my house.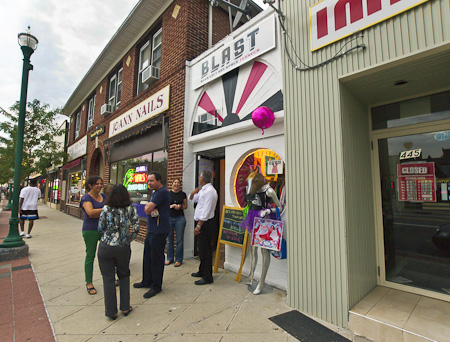 © Native Bergen
Downtown Teaneck's BLAST gallery.
Even more remarkable than the visual and environmental appeal of Scott and Sarah's Teaneck green roof óand all together unnoticed by their other media attentionówas their inspiration and courage to deviate from the typical Northern New Jersey landscape conventions. It was astounding to drive west on Route 4, through Fort Lee, Englewood and Teaneck: chock-a-block with ailanthus trees, Norway maples, Asian mugwort, strip malls and gas stations. The whole drive, I was thinking, "In the midst of all this, one of these Cape Cod colonial houses has a rooftop filled with green plants!" In these parts, you'd be lucky to spy a patch of trumpet honeysuckle or maybe a mountain laurel amidst the myriad English ivy, pachysandra and BMW's.
It was obvious from the interior of their home, which was adorned with prints from Andy Warhol and Riley Martin, that Scott and Sarah are creative people. I also visited them at the BLAST Gallery (Bank Left Art Space Teaneck) which they own and curate. BLAST is a diminutive spot wedged between blah-blah-blah and yada-yada-yada on one of the main arteries in beautiful downtown Teaneck. The gallery and store favors outsider art beyond the boundaries of the kids/pets/flowers/watercolors shtick that you'd find in many a New Jersey frame store.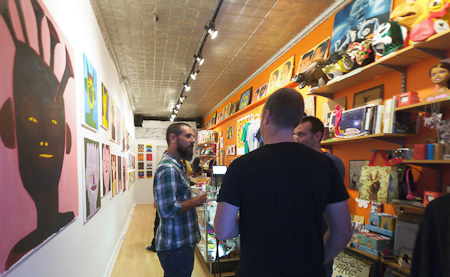 © Native Bergen
Seeing their artistic ambition and tastes gave me a clue as to their motivation to do something original in their home, despite the prevailing landscaping trend which we'll call Home Depot Conventional. I found myself wanting to encourage Scott and Sarah because I felt encouraged by them. These local creatives are managing to pursue serious artistic ambitions and yet they haven't completely pissed off their neighbors… yet. In creating NativeBergen.com, I'm betting that just beneath the shopping mall and SUV veneer of this county there is a substantial vein of creativity and originality. This green roof is proving me right.
One challenge for every artist is this: Can you create something that shocks your audience but still conveys a sense of skill or aesthetics? Or conversely, can you make something that is extremely appealing but challenges the viewer's sense of status quo? While I'm sure Sarah Jack and Scott Harris are familiar with this conundrum I wonder if they've realized that their green roof deftly manages to solve it.
The real challenge, in my opinion, is to keep it going. I didn't pester Scott and Sarah about whether or not they used woodland stonecrop (Sedum ternatum), a sedum native to the Bergen County area, in their rooftop plants. In my book, the originality and courage to create a green roof residential green roof gives them a temporary pass on the native plants. Sarah did mention that she'd like to create a rain garden in the back yard; full of native plants to boot. If the world doesn't end come 2012, I'll definitely be back to do a story on that, and hopefully, the addition of woodland stonecrop in the 2.0 version of their Teaneck green roof. óNativeBergen.October 12, 2011|Posted in THINGS|Tags: BLAST Gallery, green roof, Sarah Jack, Scott Harris, Teaneck| 2 Comments|